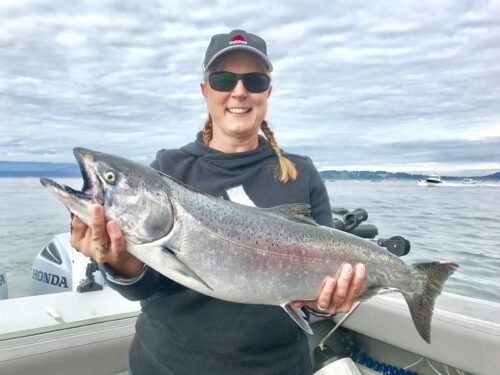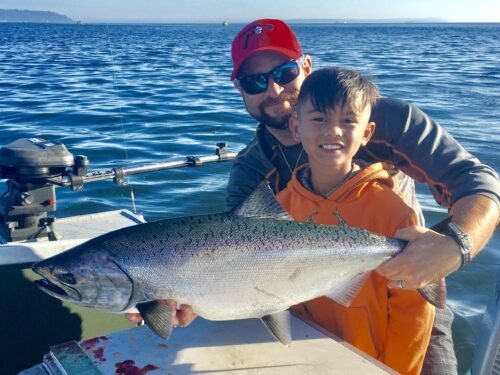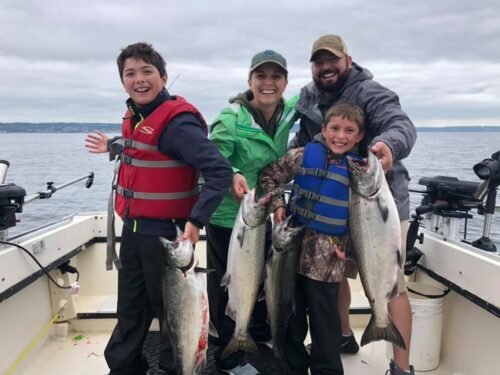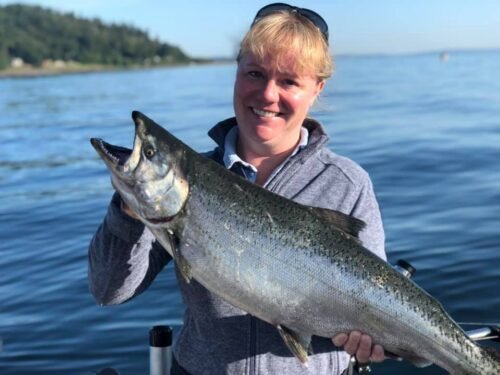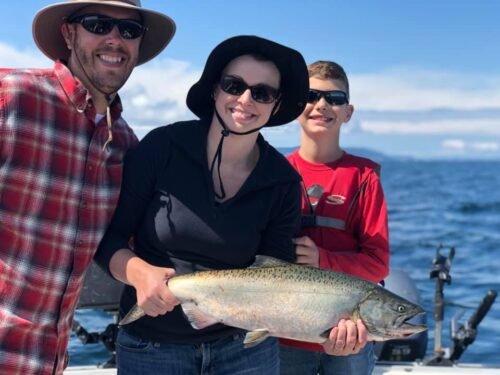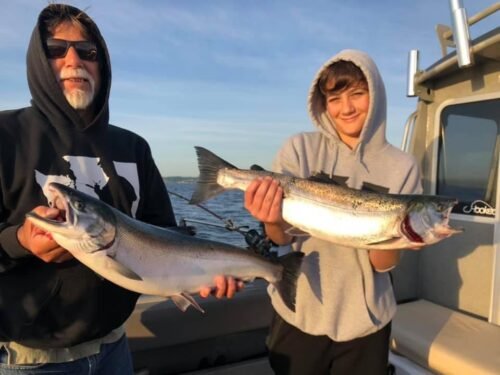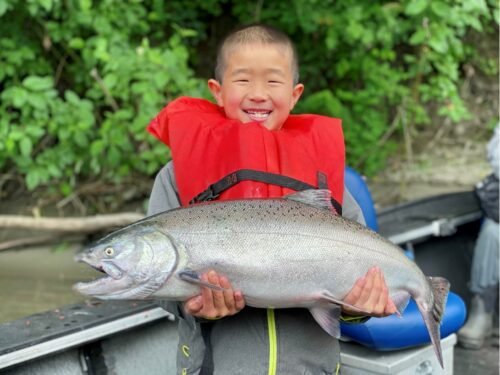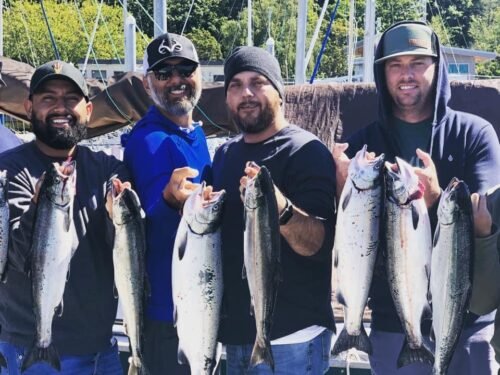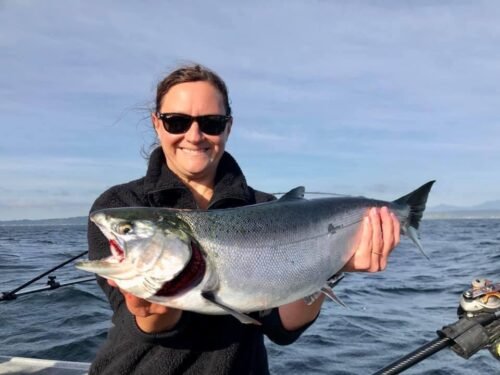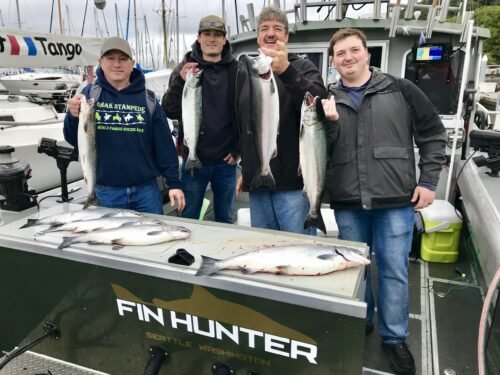 Best Seattle Fishing strives to provide the best trip possible for the avid or beginner angler
Our mission is to provide a safe, fun and memorable fishing experience in the beautiful Pacific Northwest
Best Seattle Fishing charters offers the perfect day adventure enjoying the beautiful Puget Sound scenery with good company while catching King Salmon, Coho Salmon, Pink Salmon and more.
Come join us on custom built aluminum fishing boats set up for fishing in the Puget Sound near downtown Seattle and local Washington rivers with top of the line tackle and gear.
Captain Cary and Captain Mike are energetic and passionate fishing guides that know how to cater to any kind of angler, from seasoned anglers to new anglers with limited to no experience. Our fishing charters are great for kids and families as well!
Exciting adventures await you and your crew so please enjoy exploring our site to learn more and we hope to see you on-board….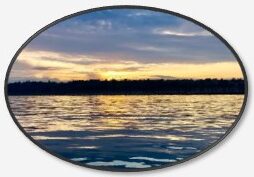 From first contact, to booking, to day of, we strive to be upfront and prompt with communication. We pride ourselves on our ability to cater to each passenger on the boat. Your experience is our top priority to end with a great trip and lasting memories.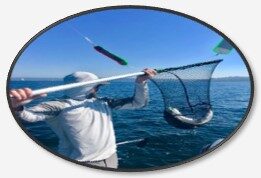 We are provide everything you need to be successful reeling in your catch. Including bait, tackle, rods, gear, light snacks and beverages are all provided by us. You will be on our top of the line boats with the best Raymarine electronics giving you the best chance at your catch of the day. Show up at the dock and we got you covered.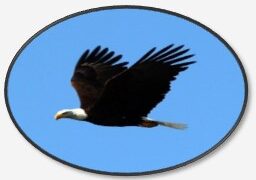 Local Knowledge & Expertise
We don't catch fish by accident! We are FULL-TIME fishing guides that have been fishing Puget Sound and Seattle area rivers for 20+ years. We always know where to go and what to use to be successful to maximize your time on the water. Our passion is putting people on fish, making it fun and an all-around good time!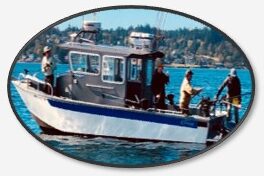 Our boats spaciously accommodate up to 6 people and comfortably handle all water and weather conditions. We have large deck space with enclosed cabins for sun and rain alike. Your safety and comfort is very important to us!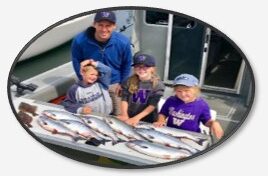 We welcome all ages and experience levels. Our Captains are very relaxed, easy-going and fun! They have children of their own and enjoy seeing families bond through an thrilling fishing experience.
Learn more about our pricing, fishing seasons, fishing experience and booking your next fishing adventure!
Real testimonials, from real people like you
Have been out with Mike several times and one thing is always consistent - he finds the fish! Great, comfortable boat makes a cruise around the Puget Sound even better. Can't say enough good things about the experiences I've had - many awesome memories made with friends and family.
Overall an amazing experience. Mike is an incredibly knowledgeable guide, he provided a multitude of tips and information, and answered any and every question our group had. I had never fished the Puget Sound, and Best Seattle Fishing made me feel at home and at ease on the water. Highly recommend!
Captain Sean was very knowledgeable and great at getting everyone on board involved. Super fun and productive trip out on the sound. I would absolutely recommend taking a guided trip with them and I will most likely do it again myself.
What a good day with Cary one of best guides i know! One that truly cares about his clients. Thanks you, for one of the best days with my uncle, and working hard to put us on fish. Means alot that you care that much.. Till next time!
HOOK UPS !!!
We had the best day fishing with Cary Hofman today. Couldn't ask for a better experience. He offers the perfect combination of instructions and encouragement. He's a kind and generous family man who you can feel safe with. We are customers for life!
Went fishing with Cary Hofmann and had a fantastic time on the water. Limits of Blackmouth on flat calm water and sunny weather. Capt. Cary provided a fun and relaxed atmosphere.
We spent a wonderful morning with Captain Cary. He is unbelievably knowledgable and passionate about fishing. Fishing is his life and it shows. He was patient and walked us through everything he was doing.
Cary, thank you again for fantastic work yesterday morning. At lunch yesterday, the 4 of us were all talking about how much of an excellent guide you are. Take care, we look forward to fishing together again next July.
View more or leave us a review!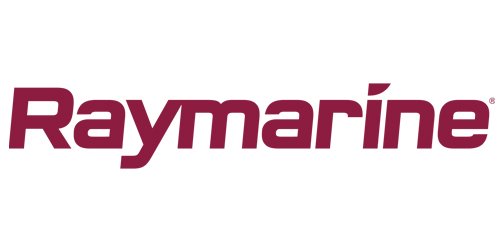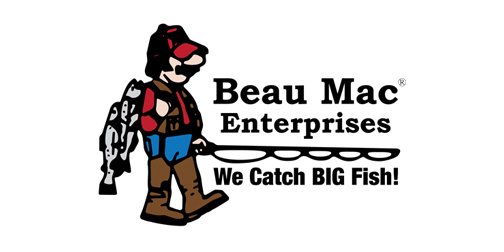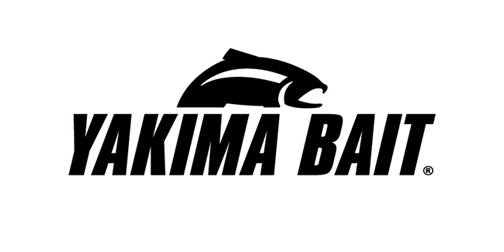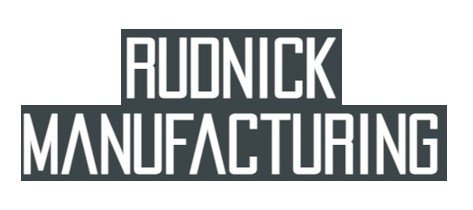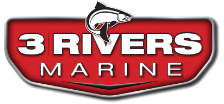 FOLLOW BEST SEATTLE FISHING